Nina Aquila: Legal Eagle, Chapter III: "Legal Stage"
Art Spotlight: "Sleeping Eagle"
---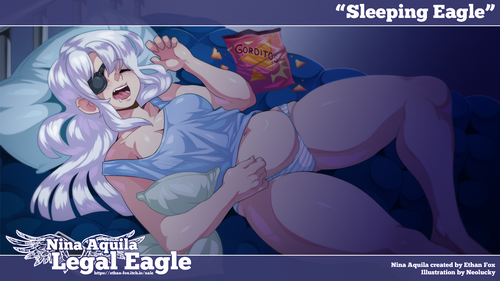 Hi all, we have something special for this Easter week's update - a fantastic piece of art by Neolucky of Nina after a tiring day... Even eagles need to sleep sometimes!
This image is going to be used in-game as part of the nightly "this is the end of the day, you should save" flow: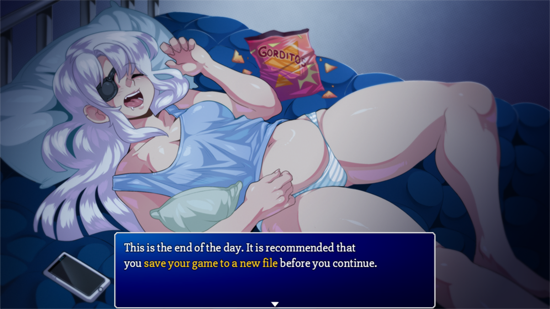 Neolucky was given some notes about Nina and a few bits of reference art, and came back with this fantastic image that I'm sure you guys will agree, captures Nina's at-times goofy, slobby-but-endearing personality perfectly. This is a pretty big update as this change will "flow back" into Chapter 2 of NALE when we release a final version, as well as being part of all chapters moving forward.
---
For those new to NALE, you can play Chapter 1 HERE for free, and feel to join our discord!
---
Also, to celebrate this, we're introducing a new design in the NALE Merch store! Titled "Sleeping Eagle", is a 90s-themed design and available on shirts, mugs and various other merch items:

As always, merch sales go directly towards covering the cost of artwork and NALE's development. Chapter 3 still requires a bunch more character art, so grab a shirt or a mug if you want to contribute to that while bearing some sweet NALEr pride!
Check out the new design HERE!
Neolucky has profiles in the usual places, and takes commissions for various purposes, including things like game/VN illustrations. They've been a real pleasure to work with so check out their work if you're interested. We're hoping to collaborate plenty more in the future, so watch this space on that!

Thanks guys, and back to the normal weekly updates from next week!
Get Nina Aquila: Legal Eagle, Chapter III: "Legal Stage"