Nina Aquila: Legal Eagle
New voice actor & major update!
---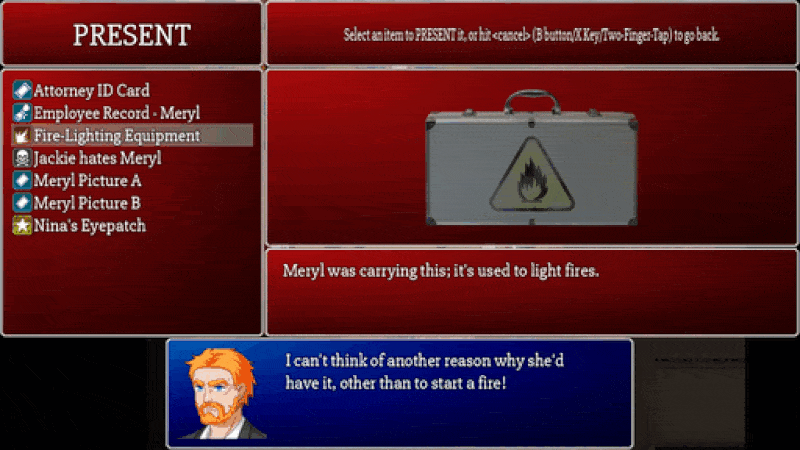 Hi everyone! NALE Chapter 1 has seen a major update today!
As we move towards Chapter 3's upcoming release (I'll announce the date soon!), we're producing new builds of Chapters 1 and 2 with many fixes and improvements.
For Chapter 1, this new build includes...
Nina's voice samples are now provided by long-time anime voice actor Rachael Messer, star of such shows as the Funimation dub of Azur Lane!
The in-game evidence browser now presents evidence in alphabetical order
Several key map fixes; it's no longer possible to climb the rope in the courtroom, or get on top of Nina's desk
Many small typo fixes and little text improvements
Remastered the intro sequence to reduce file size while not really losing much in terms of quality
Thanks, all of you, for your help in reporting issues for us to fix! You're all so amazing!
For those of you who have played the game already, these fixes are all improvements to quality-of-life and content, but they don't actually change the story/plot/narrative in any way - so if you want to play again (you'll get to hear Rachael's awesome Nina samples!) then great, but there's no need to worry about having "missed something".
The matching update for Chapter 2 should be along within a week.
Thanks again, and also - we'll be announcing the release date of Chapter 3 very soon, so make sure you follow to not miss out! You can follow us here, but also over on Twitter or Discord!
Files
LegalEagle-mac.zip
744 MB
Oct 08, 2020
Get Nina Aquila: Legal Eagle