Nina Aquila: Legal Eagle
NALE Chapter 1: Revised Version!
---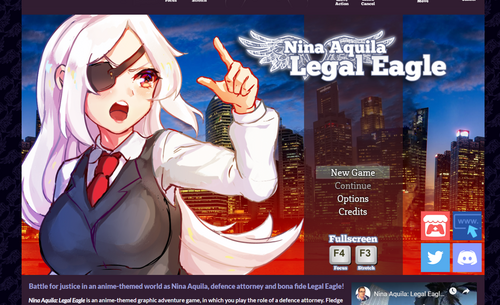 Hi NALErs! This is for all you guys, but especially those who've helpfully given feedback and reviews about NALE Chapter 1 since release.
Great news today, Chapter 1 of Nina Aquila: Legal Eagle has had a major revision on the web version, PC download version and Mac version!
Broadly, this new version of the game takes some of the improvements that are going into Chapter 2, and pulls them back into Chapter 1 to make it a more polished experience. Changes include...
Improved title screen & art
New Evidence Browser system! A bunch of you guys suggested that so I'm really happy to get that in.
All evidence now has a corresponding image.
The intro sequence is a lower bitrate, meaning it should run better on slower computers
Fixed a few minor spelling and text errors (thanks those of you who pointed them out!)
Social buttons on the title screen now work correctly in HTML5 (thanks Olivia!)
Fixed a few obscure logic bugs in the cross-examination system
Using the menu or presenting-then-cancelling during cross-examination keeps you on the same segment instead of moving on (this required a significant rework, but the improvement to quality-of-life is worth it - thanks, those of you who suggested this!)
Updated credits with new plugin and asset credits
Countless small bits of improvement and polish
You can play the revised version on the NALE page now!
Chapter 2 is coming very soon!
As always, if you encounter any problems, please consider posting about it in the community forum.
IMPORTANT NEWS ABOUT THE MAC VERSION

The Mac version is currently untested, because I don't actually own a Mac. If you're a Mac user, please let me know if you encounter any issues with this new version and I'll try to fix them. Also please let me know if it works without any problems!
Files
LegalEagle-mac.zip
350 MB
Jul 16, 2019
Get Nina Aquila: Legal Eagle